Manhattan Real Estate Market Report: Q1 2023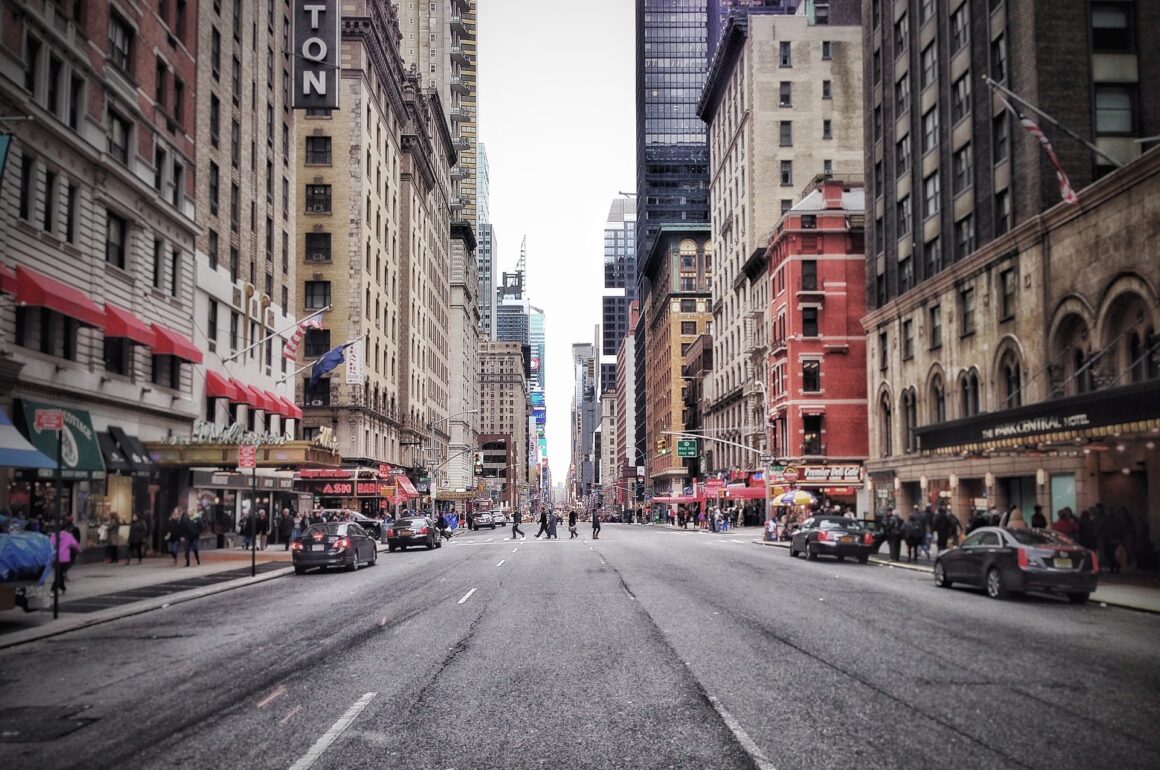 SPiRALNY market reports offer accurate insight into sales closed transactions. SPiRALNY produces a quarterly, comprehensive analysis of the Manhattan Real Estate residential market.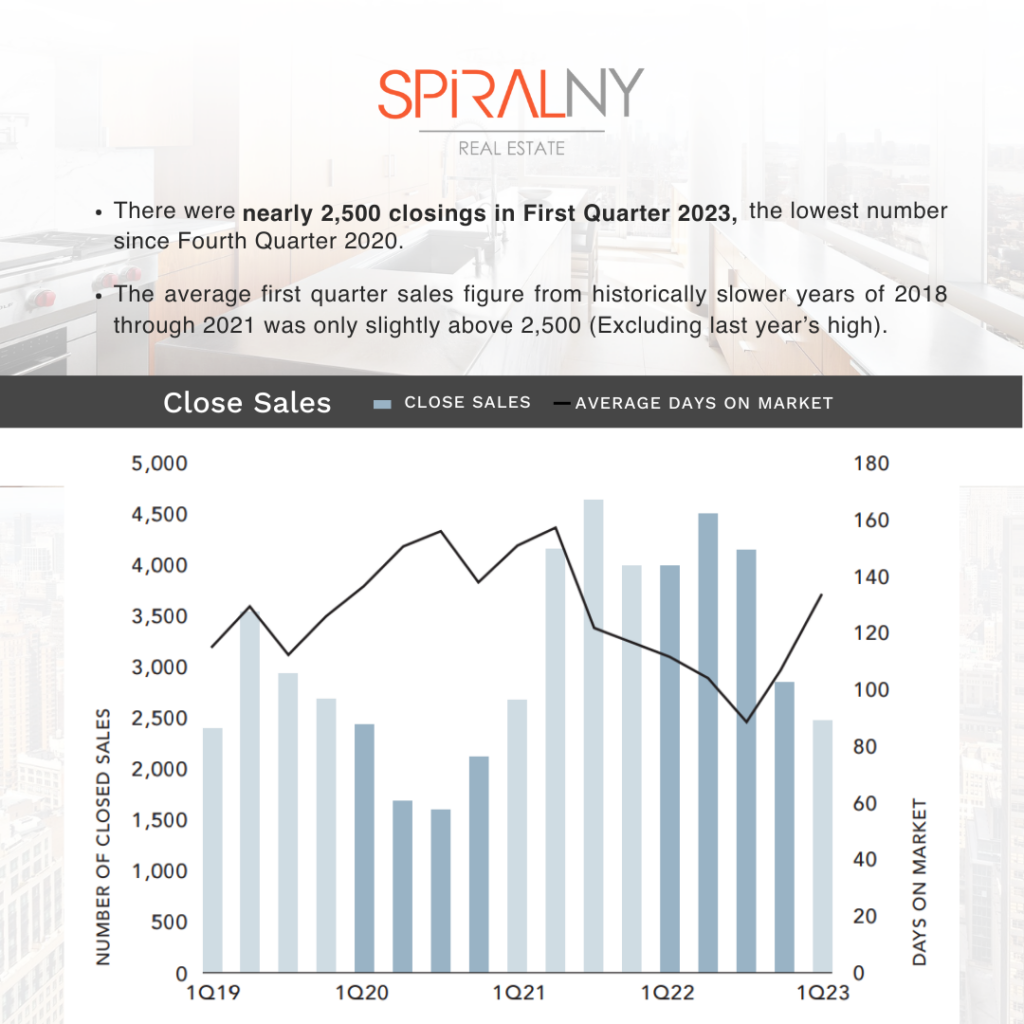 Market-wide closings are down 38% YOY, returning to a pace seen during the first quarters of historically slower years from 2018 through 2020, but we saw a notable uptick in activity starting in mid-February.
This time last year, sales reached a fourteen-year first-quarter record high, exaggerating the YOY decline we're seeing.
1Q 2023 registered 2,500 sales and while the overall number of contracts signed was also significantly below last year (-34%), the Manhattan market gained some momentum during the quarter.
The YOY decline in contracts tightened from 37% below 2022 in January to 20% in March, with a notable uptick in activity starting mid-February.

Unsurprisingly, slower sales and an uncertain market outlook caused inventory to increase 3% annually to 6,120 active listings.
Notably, the YOY increase in inventory is in comparison to a five-year low and inventory is still 13% below the historical first quarter average.
Furthermore, the annual increase in listings was attributed only to those priced over $1M, which grew 12%.
Listings priced under $1M fell 13% annually. This inventory constraint in lower cost price segments is likely also a contributing factor causing fewer sales.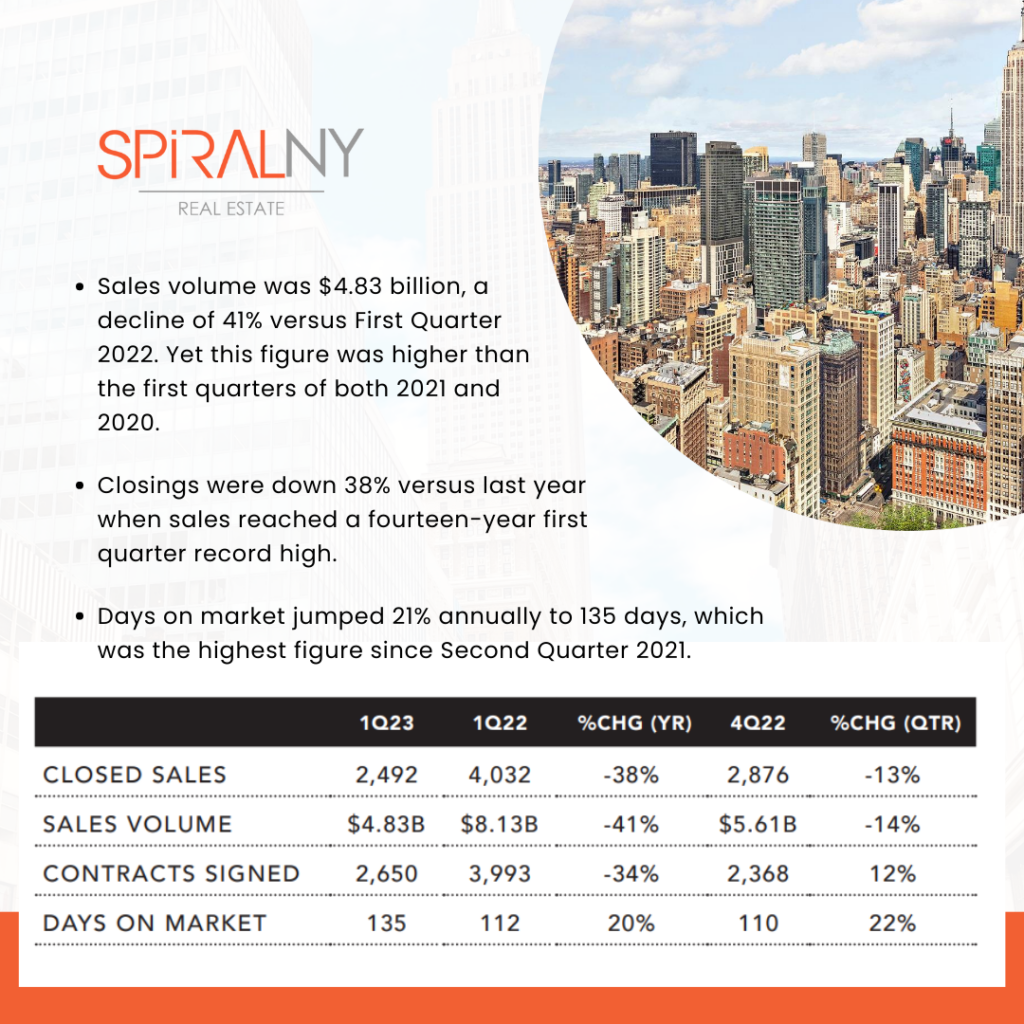 Average and median price declined for the second consecutive quarter with sales under $1M making up 50% of Manhattan closings, their highest market share in three years.
The increased price sensitivity in the market expanded sales at the low-end, particularly resale co-ops, which declined at a slower rate than other types.
Smaller, lower-priced residences had seen their demand erode in the post-pandemic recovery as buyers sought larger spaces and took advantage of low mortgage rates.
This drove median price to its lowest point since the market pause and average price to a two-year low.
Conversely, average price per square foot of $1,890 was supported by sales in super-prime locations, reaching its second-highest level in four years.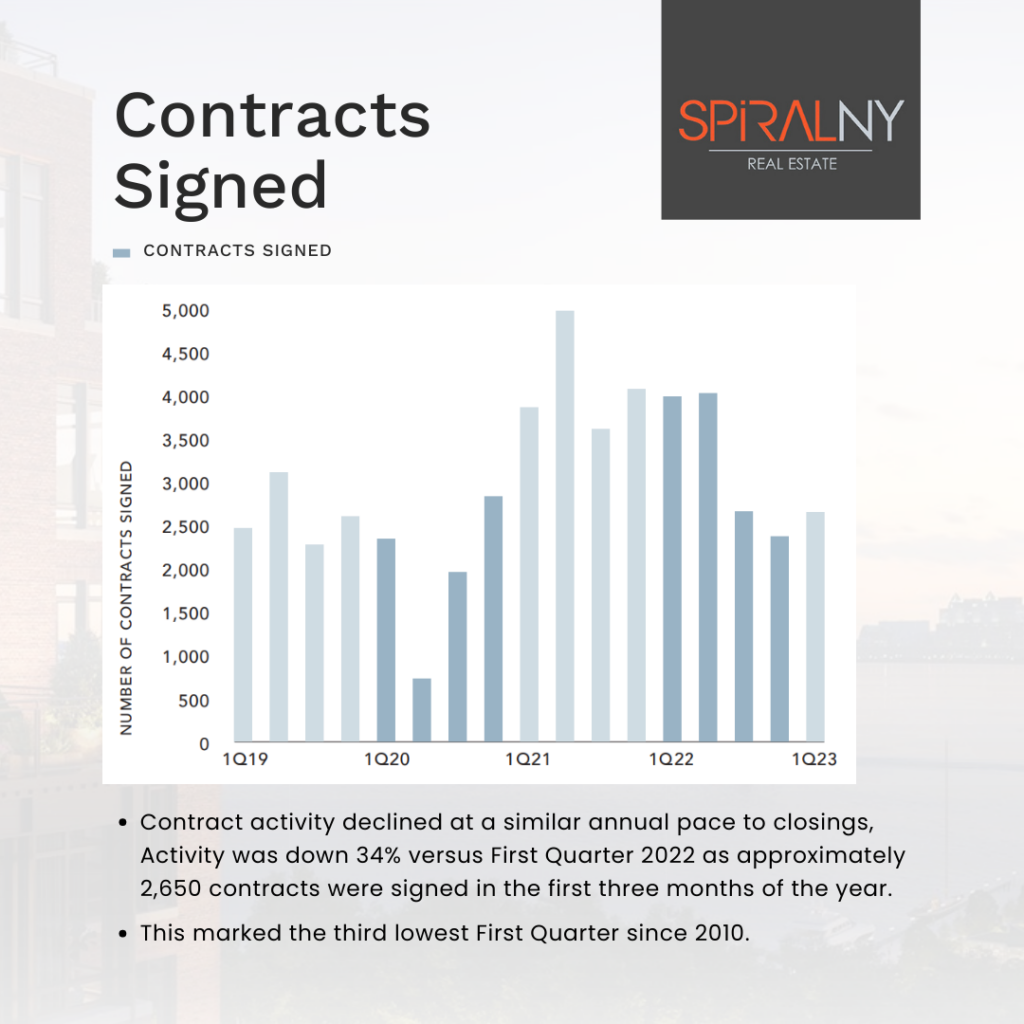 About SPiRALNY
Focused on providing a full-service real estate experience, SPiRALNY strives to answer the needs of clients with a sense of detail, care, and efficiency. Our agents work tirelessly to make the process of buying, selling, or renting seamless and exciting.
With an encouraging company culture, cutting-edge technology, and extensive training resources, SPiRALNY agents are destined for success.
(Visited 96 times, 1 visits today)